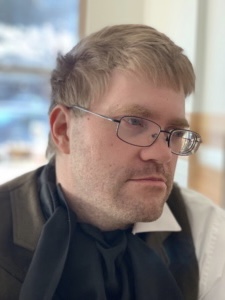 The inestimable Rowan Green is also one of our authors.
Rowan Green writes books, but you knew that, didn't you? Although most of his work has never seen the light of day, some of his stuff is out there. 
He enjoys low carb moderate protein foods, coffee, and chatting with his favorite author Anna Rose, whose work he highly recommends. He also recommends her podcast, SciFi and Fantasy, Light & Dark. 
He lives in the Southern United States with his wife, roommate, and cats. When he's not writing, he works at his job with a software company. In his free time, he tends to spend time outdoors, camping or hiking. He also enjoys coffee shops and playing with his cats, Hazel and Kyra.
Rowan Green would like to thank the amazing Anna Chamberlain who has designed all the wonderful work on his website and book. Her work can be seen at: https://https://www.annachamberlain.co.uk 
He's the author of the wonderful fantasy series THE CARD-WALKER CHRONICLES which begins with the delightful PERCHANCE TO STEAM. The sequel, ALL THAT GLITTERS, is coming soon.The series embraces the Tarot and alternate Earths, and tells a tale of discovery and not only personal growth, but cultural growth.

From PERCHANCE TO STEAM'S Amazon reviews:
P Kelley – 5.0 out of 5 stars 
Great Read! An Amazing blend of the fascinating worlds of steampunk, magick and tarot.
Reviewed in the United States on August 11, 2021
Verified Purchase
This book is a masterful combination of the exciting worlds of steampunk, magick and tarot. The characters and back stories are well developed and the author's writing style really helps to pull you into the story. The tarot concepts and associations are accurate and were well researched by the author. I can't wait to see where the journey leads in the next book of the series. Highly recommend!
If you want to contact Rowan, you can link to him on Facebook or contact him via email at [email protected]